Was able to sneak out this weekend and enjoy a 12-13 mile hike that I've had my eye on for some time.  Back in 2010, I took an ill-advised and insufficiently-watered solo hike up to the top of Smith Mountain. From that vantage point, I could see the South Hawkins loop almost in full, and it looked like appetizing indeed.
The shot below was taken atop South Mt. Hawkins itself, and my right boot is more or less aligned back with the Smith Mountain summit.  It was satisfying to finally sit down and take in this view from the opposite peak.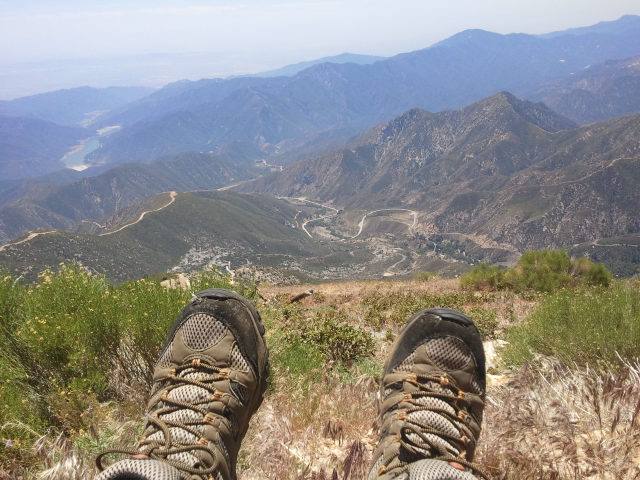 The 360 view was excellent, with Mt Wilson visible to the West and Mt. Baldy to the East… Basically, South Hawkins commands views of most of the San Gabriel range.
As always, for a comprehensive trip report on the entire hike, see Modern Hiker.
For anyone seriously considering this hike, I have two tips to add to Casey's report.  First – the South Hawkins fire road is not impassable, but requires five or six light scrambles over some washed out sections.  The last one headed down (or the first headed up) is the worst and may not be suitable for seniors or young children.  Second, stay vigilant for the unmarked Hawkins ridge trail. It's easy to go too far toward Throop Peak and miss the trail.  You need to eyeball the trail as it leads to South Hawkins 3.5 miles in the SouthWestern distance. The beginning is not well-marked at all and even requires a light bushwack.  If it was closer to the trailhead, I'd drive back next weekend and place some rock cairns, but alas, I don't think schlepping back 9 miles roundtrip and 2800 feet is in my future…