Just your basic story of:
13-year-old Boy Scout climbs unmarked 12,785 ft. peak in Sequioia … in 1972.
Boy Scout Leaves note in a film cannister.
Note is discovered this month: 40 years after it was written.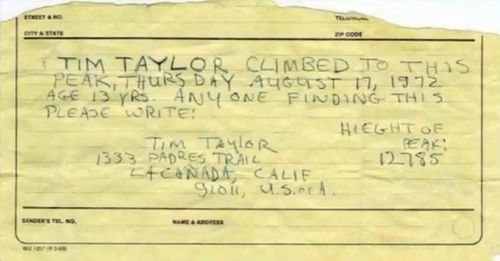 Boy Scout grows up to be a 53-year-old San Diego Superior Court Judge Tim Taylor.
Hiker who discovered the note is 69-year old, Larry Wright, experienced Sierra hiker on a trek with his son and grandson.  
Peak remains un-named, Wright suggests Taylor-Wright peak.  
Great idea; great story.  Video can be found here.