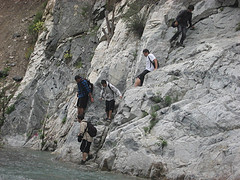 Hidden above Azusa is the rushing current of the San Gabriel River – which flows year-round with a force and rapidity that's surprising given the surrounding desert lowlands.  There are all kinds of great trails up here, including Bear Creek, Smith Mountain, Crystal Lake, Rincon OHV, Bichota Canyon, and many more.
This weekend, we finally got around to taking the absolutely delightful, 10-mile Bridge to Nowhere out and back.
To reach the Bridge to Nowhere trail, you take highway 39 straight up into the mountains, passing two giant dams and reservoirs. Looking at these structures, it's easy to imagine how L.A. was prone to cataclysmic flooding in its early years.  Proceeding North on 39, you'll take a right on 'East Fork' road about 12 miles into the hills.  You'll follow this road all the way to the East Fork fire station, park, and then proceed on foot up the East Fork of the river.  Be ready to get your feet and lower legs soaked to the bone. This hike features at least 10 different river crossings over the course of 10 miles.  
As always, you can get a comprehensive trip report and great directions and tips from The Modern Hiker. If you're interested in taking this hike, use his post as a resource.
[Modern Hiker on The Bridge to Nowhere]
Here are a few of our choice snapshots from the trail: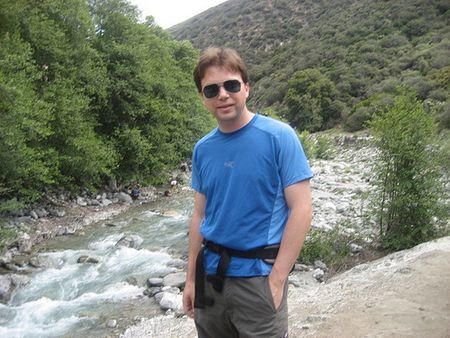 Still dry at this point…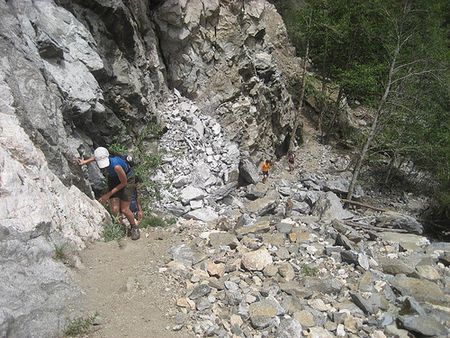 Ascending…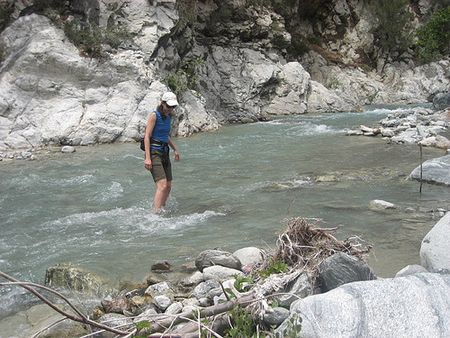 Getting our feet wet.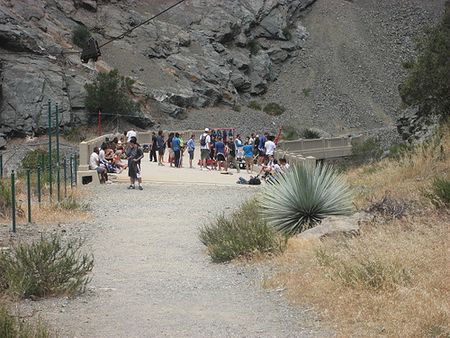 Arriving at the bridge, where a very-young-skewing crowd is gathered for the only legally sanctioned bungee jumping in the state of California.  That's right.  The Bridge to Nowhere is evidently a bungee mecca. Me, I'd rather get a job at Walmart than jump off a bridge like this.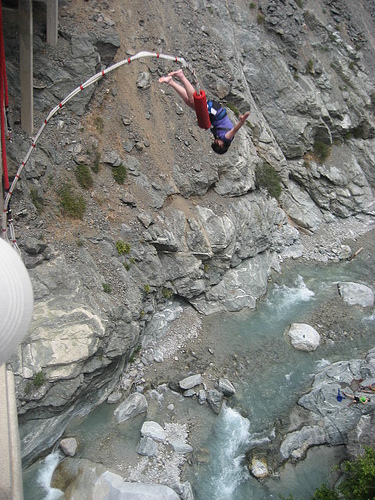 It looks fun – but we weren't psychologically prepared to take part.  I doubt if I ever will be.  JW on the other hand seemed very interested.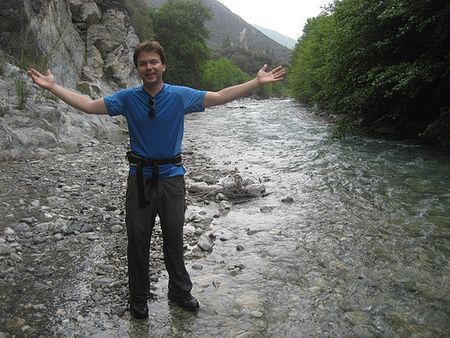 Here's a shot from the end of the hike. Caption might read something like: "The Fake Angeleno in his role as unofficial good will ambassador of the San Gabriel Mountains."  There was much pretty country in between here and the bridge.  Here's hoping you can get out to experience it yourself.