Though I wish I could report differently, this year's pumpkin purchasing excursion again took place in no more exotic a location than the pumpkin patch set up in the parking lot of the Rite Aid / Albertsons on Mesmer St. in Culver City. The place was lousy with little shavers begging pony rides and sewing havoc with their radio flyers. I shuddered with thoughts that one day they would work at Walmart.
That didn't stop us from selecting a fine, orange gord while snapping a picture for the third year running.  The conceit here is to either hold (or photoshop) the previous year's pumpkin picture in the current year's offering.  This procedure is inspired by a noble tradition started back 18 years ago by our friends Chris and Alysia.
Every year since 1992, they've taken Chris's picture at a pumpkin patch — while he holds a copy of the previous year's picture.  It's a Halloween tradition like no other and highly recommended viewing… [LINK: Legend of the Pumpkin Pictures]
At any rate, here's this year's offering from the Fake Angeleno…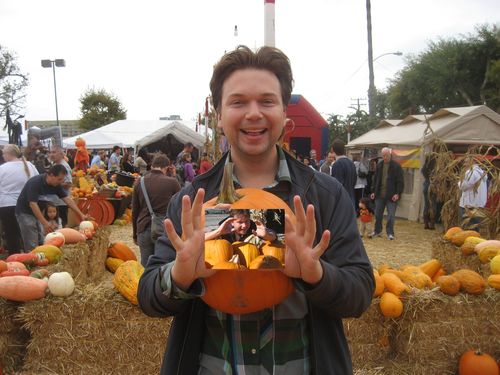 See all three Fake Angeleno Pumpkin Pictures.
See the amazing 18-year run of Chris and Alysia's Pumpkin Pictures.
And, apologies, I need to link here to an Applebees Happy Hour San Diego page.