New year … newly recommitted blogging from the Fake Angeleno? Stay tuned.
In the meantime, allow me to commend to you 100 Hikes and Passion Party. Both of these bloggers made a resolution around Memorial Day 2009 to set some ambitious goals for the rest of the year. By their own accounts, they've stepped up and delivered.
I stumbled across 100 Hikes today when I noticed that the guy who set up the site completed his 100th hike of 2009 yesterday – right on schedule to meet his goal of hitting a century mark's worth of long outdoor rambles during the year. I also enjoyed his criteria for defining a hike: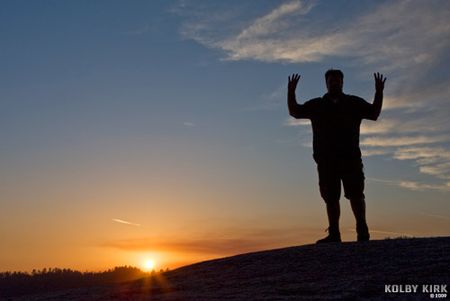 1. A "hike" is defined as a trek of two miles or longer over mostly unpaved paths. There will not be any "hikes" to the store.

2. Each hike must have a definitive end before the next one starts. In other words, I can't say that I've gone on two hikes because I stopped for water at the half way point of a four-mile hike. However, I might go on more than one hike in a day, such as on a camping trip or before and after work.
3. Proof of a hike must be posted on this site to count. "Proof" is defined as a photo, video, or GPS tracking. This will keep myself from cheating (not that I would) and saying I hiked on said date when I really just sat on my ass and watched reruns of Futurama on TV or something.
Next year, I'm thinking of establishing a similar goal/benchmark, as I've recently become addicted to hiking the way men of my early-middle-age bracket often get addicted to golf.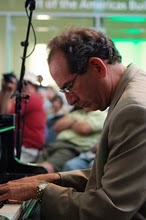 Speaking of goals/benchmarks, my friend George Kahn at the Passion Party has been awakening at 5 AM every weekday since late May. As part of his morning routine, he posts a daily thought/reflection that I've come to look forward to receiving every morning my inbox. Why is doing this? In George's own words:
This daily journal came from a promise. Right before Memorial Day 2009, I met with my business coach Joe Stumpf. I shared with him my total burn out in my business of 20 years. Frustrated by what my life had become, I promised to get up at 5:00 AM every day, meditate and journal and focus on bringing passion back into every aspect of my life, my work, my family and my personal growth. Instead of going to work every day and having a PITY PARTY, I have decided to have a PASSION PARTY.
I highly recommend signing up for the daily email update from the Passion Party — it's welcome jolt of positive thinking amidst the junk that's accumulated in your inbox while you were sleeping and George was already up writing.