It was another eventful Halloween in Mar Vista, as the local youth came by the house in droves to extract their share of the processed milk chocolate we'd bought at Rite Aid the day before.  The kids were adorable as usual and our pumpkin this year was a basic bucktoothed, smiling creature — as opposed to last year's Obama propaganda tool.
We had the usual blast driving over to the pumpkin patch to select our round, orange gord.  The highlight of the trip was seeing a smartly dressed Laura Dern and her young daughter picking out their pumpkin as well. 
Finally, if you haven't done so already this year, you'll want to head over to Chris and Alysia's Pumpkin Pictures Chronicles.  Every year since 1992, they've taken Chris's picture at a pumpkin patch — while he holds a copy of the previous year's picture.  It's really one of the greatest things you can look at on the internet.  [LINK: Legend of the Pumpkin Pictures]
Last year, I started a tradition of our own, snapping a picture pumpkinside.  This year, I forgot to bring last year's photo, but we still snapped a 2009 pic anyways.  With apologies to Chris and Alysia, here's this year's Fake Angeleno pumpkin picture offering: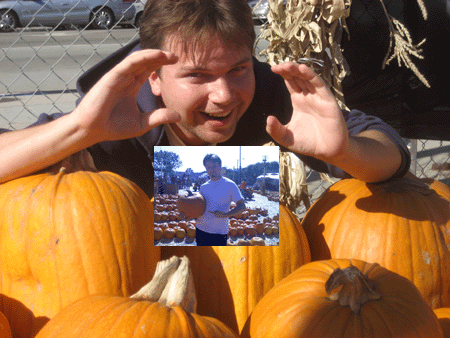 And here's a much more appealing photo of Jessica at the patch in Santa Monica: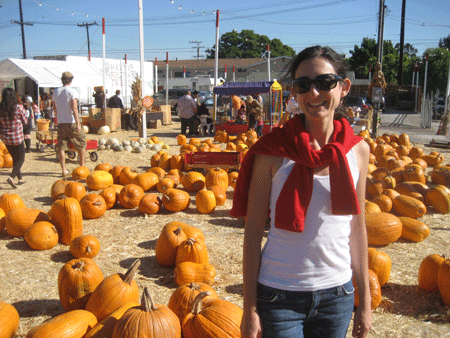 Did I mention I need to put a random link for Orange County Mortgage Brokers here?  Sorry. Oh, and a shoutout for Find Los Angeles Restaurant Happy Hour as well.