I hadn't heard of this one before, but it seems the ninth annual Arthur Lyons Film Noir Festival will be taking place next weekend at the Palm Springs Cultural Center.
According the festival site: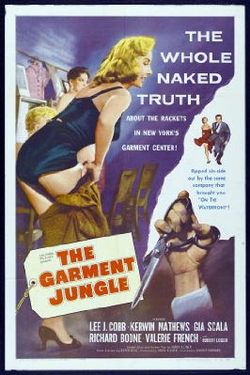 Founded back in 2000 by the late mystery author and Palm Springs community leader, the popular Film Noir festival includes an eclectic mixture of prestigious and obscure black and white "B" movies from the classic film noir period. The former Palm Springs Film Noir Festival is well known for a scintillating array of personal appearances by the stars that appeared in the movies being screened.
I'm half tempted to point my car East on Friday and make a weekend of it.  (Inspired, of course, by the spirit of Raymond Chandler, who liked to motor aimlessly up and down the coast — to Oxnard and back — and through the desert, out to Palm Springs and beyond, casting about for material and novel settings.)
Here are a couple of highlights from the schedule, which is filled with a bunch of rare gems and pretty much entirely avoids all the usual noir suspects.  Kudos to the curators.
7:30 PM (5/28) Opening Night – BIGGER THAN LIFE (1956) – A forgotten, noir-stained classic directed by the great Nicholas Ray (Rebel without a Cause, In a Lonely Place, They Live by Night). An ill schoolteacher (James Mason) experiences relief via a "miracle drug" but ends up getting hooked and descending into a psychotic nightmare. This compelling nightmare tale wrapped in Eisenhower era social commentary is a stunner! Also starring Barbara Rush and Walter Matthau.
***BARBARA RUSH is scheduled to be the SPECIAL SCREENING GUEST!!***
7:30 PM (5/29) THE GARMENT
JUNGLE (1957) 88 min. Based on the true story of a muckraking
New York journalist who was blinded by acid for trying to expose
the evils of garment industry bosses, this film is one of the
toughest "exposé" pictures of the 1950's. The fierce script by
Harry KleinerRobert Aldrich
(the project's original director) and Vincent Sherman (who
replaced Aldrich during filming). The result is seamless, and the
performances are uniformly first-rate, from a cast that includes
Lee J. Cobb, Kerwin Matthews Gia Scala, Richard Boone, Joseph
Wiseman, and a youthfully fiery Robert Loggia.
****ROBERT LOGGIA is scheduled to be the SPECIAL SCREENING
GUEST!!***
Just the live Robert Loggia appearance alone is, I think, enough to make me drive out and take a look.  I love the idea of a bunch of aging star types gathered out in Palm Springs to screen lost triumphs from their heydays.  And can you imagine the brand of similarly aged hangers-on this thing will attract?  Totally worth the gas, food and lodging to take a gander. 
Also, I bet Carver's Dog knows all about this festival… And if he doesn't, well he should. 
LINK: [Arthur Lyons Film Noir Festival]