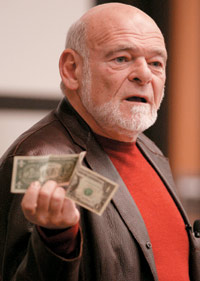 This blog turns one year old tomorrow.  In anticipation of a birthday celebration, I'm looking back on some classic posts.  (Read: I'm too busy at work to come up with anything original.)
Given the Tribune Co.'s recent bankruptcy filing and the generally awful state of the economy, I thought now is as good a time as any to say "I told you so."
Wrote the Fake Angeleno back on March 20, 2008:  "You can imagine my surprise this morning when, at bottom right on the front page of the L.A. Times I found this story: Why This Downturn Doesn't Portend Another Recession 
Is that a fact?  How can we know with certainty?  To me, it looks an
awful lot like an opinion piece  has cracked the front page of the
Times.
I hope you'll re-enjoy  Memo To Sam Zell: What's With The Opinion Piece Masquerading as News on the Front Page of the L.A. Times Today?