Dear 100.3 "The Sound,"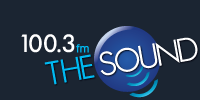 We'd never heard of you before landing on your slice of the FM radio dial while driving to Christmas Eve dinner last night.  Amidst a sea of crap, your program of commercial-free Christmas music really stood out.  We really appreciated the mix of lesser-known rock covers and interesting novelty songs.  You kept it easy on the Andy Williams and heavy on the "palatable-year-round" type of listenability.  We particularly enjoyed the stripped-down Johnny Cash "Silent Night," the outrageous "Soul Christmas" song and the year-old Brett Dennen protest ditty "The Holidays are Here (And We're Still at War)."
We listened to your station all morning today and were delighted several times to hear great songs or covers we'd never heard before.  While Peggy Lee, Bing Crosby, Eddy Arnold, Burl Ives, Kenny G., The Mannheim Steamroller and friends certainly have a place of honor on the holiday soundscape, it's really nice to get a breath of fresh sound every now and then.  
Thanks again for providing us this important service and rest assured you've earned a place on our car stereo pre-sets in 2009.
Merry Christmas,
– The Fake Angeleno and JW