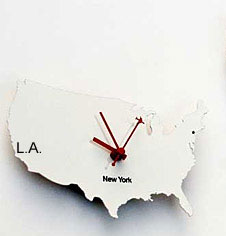 Normally, November is my least favorite month of the year.   The time change and deteriorating weather conditions don't agree with me whatsoever.   In New York, November's combination of darkness at 5 PM and spontaneously- generated-sleet-storms always had me ready to lick the third rail at Greenpoint station and wash my hands of life's sorry pageant come Thanksgiving time.
This year has been different.  The Mediterranean climate here has been ample compensation for the departure of daylight savings time. And with a Democrat headed to the White House, I'm not sure if I'd even notice if a sleet cloud followed me around like an woe-betided Peanuts character. 
Still, one thing I haven't gotten used to is being three hours behind my friends and enemies back at the center of the media universe in NYC. 
In the West Coast Time Warp:
The Dow closes at 1PM.
I can hear All Things Considered at lunch.  
I wake up at 6:30 AM Pacific most days … which is when I used to wake up in New York. (9:30 Eastern)
If I want to call an NYC friend past 9 PM, chances are they'll be pissed. 
My fantasy football draft happened while I was still at the office. (with disastrous results)
Election night was more like "election evening."
And that's just me…
For a much more articulate exploration of the West Coast Time Warp, I suggest reading Gretchen's post on this subject.