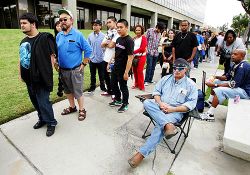 It's a gorgeous day here in Los Angeles.  Some rain early this morning has cleared the air; people are walking around a little taller; and many folks are quick to flash a grin of solidarity. 
Dare I say it: Hope is in the air.   
Driving to work this morning, I noticed my four mile commute was strewn with polling places — all with good-sized lines.  Encouragingly, there were volunteers with "No on 8" signs standing on nearly every corner. 
Though I wish I could spend this election day with my old friends in New York and my family in Illinois, it feels great to be here in Southern California with new friends, looking forward to a new President. 
For anybody that's interested, the L.A. Now blog is keeping a nice running commentary going today. 
Also, don't miss this explanation of why one liberal blogger didn't vote for Obama.
Fake Angeleno friend Adrienne Crew has a great post on L.A. Observed about prepping to be a poll worker in Culver City.