It's already been in print for a couple weeks, but music editor Randall Roberts has a great piece at L.A. Weekly about attending a music industry event at the Sunset Marquis hotel where Led Zeppelin was rumored to be playing a set. 
LINK [For Those Who Stand Long … A Zeppelin Reunion?]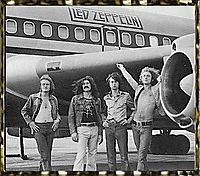 Now I don't know enough of either L.A. or the music industry to say that Roberts "captured" anything whatsoever.  But I do know good writing when I see it…
I've been a big fan of Roberts' stuff for a long time and can recommend checking out his author archive at LA Weekly.   Roberts is a fairly recent St. Louis transplant, and I always enjoyed reading his and Paul Friswold's music writing in the Riverfront Times back home. 
Incidentally, Friswold was a personal God of Alternative Print Journalism to me and my college roommate back in 1999.  Read this Friswold classic and see if you can tell why!
Finally, I was getting desperate for something to post today before stumbling on the Randall Roberts piece, so I was surfing around looking for some bad band names to amuse you with.  Fortunately, a website called The L.A. Music Scene (.com) provided me with three solid starters. Without further ado I give you:
Chalkline Kuhdavers: "Description: ska/punk/metal and everything else"
Corman: "Description: It's platinum rock, babe!"
Ryanjoy! "Description: pop/r&b singer which appeals to a diverse group of fans. people have described it as black eyed peas meets gwen stefani.