I suppose I could have theoretically eaten outside on the stoop of my Brooklyn apartment.  But that would have involved a constant vigil against drunken old Polish men and the occasional stray subway rat.  So it ought to come as no surprise that my excitement about our new outdoor dining equipment is rather disproportionate to its actual "wow" factor.  
Still, when we were sweating it out amidst another humid New York August last summer, we hadn't yet imagined that something as simple as grilling some veggies out back and then dining al fresco — with the setting sun and Pacific breeze as dinner guests — was possible.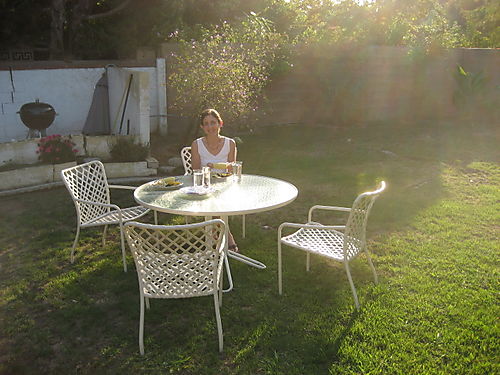 In other weekend news, we had been planning on attending the launch party for the new Angel City Press book, Paradise Promoted, but we had to cancel at the last minute.  The subject of the book is the L.A. "boosterism" movement that flourished here between 1870 and 1930, inducing fatigued Easterners and Midwestern rubes to migrate West by the hundreds of thousands.  
In many ways, boosterism is still alive and well, wouldn't you say?