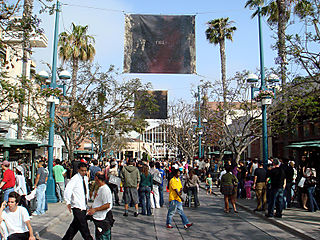 Yesterday, we did some shopping on the Santa Monica Promenade.
I came away with a new pair of jeans from Old Navy (thanks for the gift certificate, Judy) and Jessica bought some "hydration packs" for our hiking enjoyment.  In case you were wondering "hydration packs" are "fanny packs with slots for water bottles."
It was a nice little Sunday. 
Too much information?  I agree.  However, I wanted to share our main observation of the shopping day: We noticed there were seemingly more foreign language speakers shopping on the promenade than natives.  It was like a U.N. convention break out session over there.  We heard French,  Japanese,  Italian, German,  British English — you name it.  Thanks weak dollar!  The whole scene would have been enough to give Jesse Helms a coronary, if he wasn't dead already. 
We'd seen this same dynamic last year on 5th Avenue, but the foreign shopping influx seems to have intensified since then.  Meanwhile, I'm enjoying the thought of Czech college kids slapping high five over Miller Lites and shouting "Dude, America is so cheap. You can live here for months on five Korunas a day!"