Four key lifestyle areas where Los Angeles beats the Big Apple by three thousand miles…


Running errands:
Everybody hates the obnoxious New Yorker who'll proclaim to anyone listening that "It's a victory just to live here."  Actually, this unlovely creature is partially correct.  In addition to paying two pounds of flesh per square apartment foot, just picking up one's dry cleaning and buying some groceries in "the city" always turns into a full-blown cardio workout and five sets of bicep curls.  Need a new bookcase?  Everybody aboard the Port Authority bus for the IKEA in Elizabeth, New Jersey! 
These days in L.A., I rise early on the weekend, pull on my bathrobe, make like Ray Liotta at the end of Goodfellas and pick up my newspaper from the front porch.  By noon, I've attended to my every earthly grocery and household need for the next week.  
Getting out of town: If I never see the bowels of Penn Station again it will be to soon.  The inside of my Saab is so much more pleasant.  I realize my carbon shoe size has mutated into Andre-the-Giant-size proportions, but I feel I've worked out my environmental salvation riding the Long Island Railroad to the beach for seven years…

Finding good Mexican food: Sure, NYC has an insurmountable lead in restaurant quality and variety, but L.A. wins hands down in the Mexican category.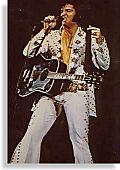 Dealing with humidity:  No longer does just walking out of doors in the month of July turn me into the last hour of Elvis '68 comeback special — which is to say dripping with sweat and in dire need of a seconal. In New York,  I used to show up at work at 9 AM drenched with perspiration from the five-minute walk from the subway to my desk.  Now, even in 90 degree heat, I feel crisper than a Brooks Brothers model on a photo shoot in Helsinki. (By comparison.)
UPDATE: Welcome Metblogs readers!  You can find the rest of my 6 Month L.A. Report Card here, or at these individual links:
L.A quality of life upgrades
Tough L.A. Adjustments
Things I'm missing about NYC