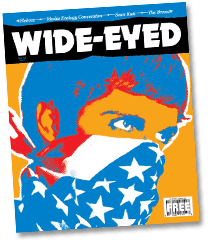 A couple months back, I noticed the now-iconic Shepard Fairey Obama poster design staring up at me from the back of a free tabloid.  I immediately picked up the paper, because I'd wanted a reproduction of the poster for some time. 
It was the inaugural edition of Wide-Eyed Magazine. 
The name is pretty apt.  If you're looking for wised-up, piquantly ironic commentary from well-established experts, then you'd do well to toss Wide-Eyed in the trash, jaunt over to the nearest newsstand, and drop $4.50 on the New Yorker. 
The Wide-Eyed voice is about as subtle as a Conor Oberst protest song and nearly as earnest.  The paper's motto — pulled from the opening line from editor in chief Ben Hunter — reads, "We are the generation of great hope. We have the resources to create,
to inspire, and to bring about the new digital enlightenment."
Good luck with that, my friend. 
The transformative-generational-paradigm-shift, powered by heightened-eco-consciousness-and-indie-jams will no doubt come.  But it may tarry…
But then again who am I to judge?  I'm just some guy with a prefab Typepad blog who posts short link lists once a day, spiced up with the occasional poorly-formulated political rant or snapshot of my girlfriend on a hiking trip…  Mr. Hunter, on the other hand, has put together an awesomely designed monthly publication with great music coverage and serious, if amateurish, essays on politics and culture.  The Wide-Eyed design, look, and feel — courtesy of creative director David Dodde — is really something to see.
Here's the best way I can describe Wide Eyed: It's what might have happened if The Brooklyn Rail slept with The L Magazine, and they had a kid who grew up and launched a paper after finishing undergrad. 
At any rate, I've really come to enjoy the paper in its three months of publication.  I suggest you head by their website and take a look for yourself.  There's actually a two-part interview with Shepard Fairey up right now… 
And any publication that blogs about the most recent spawn of Black Francis is alright by me.
LINK: [Wide Eyed Nation]