In my weekly rotation of coffee shops I use for offices, The Rumor Mill is one of the best.  Located on Washington Blvd. in Culver City, "The Mill" has the best bagels I've yet tasted in L.A.  The coffee is consistently excellent, the light streams in nicely, and there's an upscale laundromat next door in case I need change for the L.A. Times or my parking meter fund.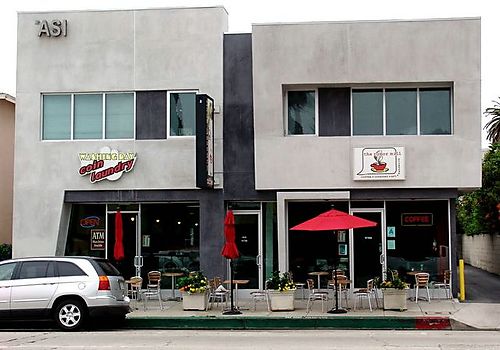 What's more, the staff is a total rarity for any coffee shop: They're all smart-interesting-people, yet they manage to provide a level of customer service corporate America could only drool at.  These folks know my name, bat back my banter, and never fail to bring me the correct order minutes after I place it.  I'm not naming names, but a lot of independent coffee shops I frequent employ staff that seem to be too stoned to remember what happened five seconds ago, much less my request for capers on my bagel — which they always neglect to toast.
That sort of tragedy never happens at the Rumor Mill… Which suffuses my yuppie, Bobo heart with a warm sense of identification and well-being. 
At any rate, I just had a funny discussion with two of the guys behind the counter about the beloved Sesame St. 1-2-3-4-5-6-7-8-9-10…11-12 music video.  All praise is due to YouTube: They have a full clip.  Embedding is disabled, but you can check it out here for a real trip down memory lane:
LINK: Pinball Number Count [http://www.youtube.com/watch?v=h-YcBVEnLT8]