For the most part, I'm happy to be keeping A.A.R.P. type hours in my new incarnation as a Westside suburbanite. Occasionally though, I've wanted nothing more than a slice of pizza or cheesesteak sandwich in the late P.M. or early A.M. hours and have found my immediate surroundings sorely lacking in late night food options. (At least compared with, say, the West Village, or even Manhattan Avenue in Greenpoint.)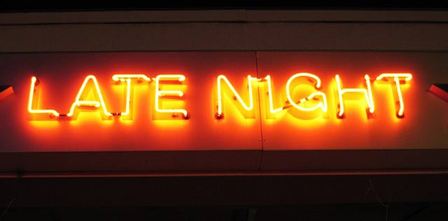 When this list of late night food in and around Pasadena showed up on my blog feed, I was pretty happy to click through to see what I might find. Sadly, the list is pretty anemic. But, I know this is just Pasadena…
So I surfed around and found a couple useful pages for late night food around L.A. This made me feel a little better:
Chowhound open thread
Metromix endorsements
Yelp open thread
UPDATE: Welcome to everyone clicking through from Jason Burns' post on Metblogs. Although this post comes off as a whiny rant about Los Angeles not measuring up to NYC, I just wanted to note that I'm really loving L.A. If I didn't hate music on websites, I'd cue up Randy Newman for every Fake Angeleno page load.
I'm very glad to have moved here, and my quality of life has increased about 225% since the end of December. I think the cultural scene in L.A. is first rate; and personally, I'm much more engaged and excited about art, music and politics here than I was there. I'm no critic, but New York is pretty stultified these days … In my opinion, it's what a well-loved L.A. movie character might term "dead anyways." I've got good friends in New York and Illinois, but there's no place I'd rather be right now than Southern California — the fondly remembered convenience of 24-hour delis on every other block notwithstanding.
FULL DISCLOSURE: I blatantly stole the image of the Mel's Diner sign above from an LAist post on late night dining, which in turn lifted it Hagoody's Flickr stream.