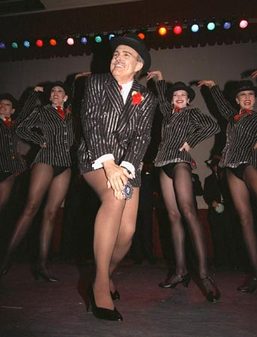 I'm flying home to Southern Illinois today to visit with my family. My weekend itinerary includes a scramble-style golf tournament tomorrow with my dad, fishing off our pontoon boat on The Lake of Egypt, a campfire with my sister and brother-in-law, some cooking and jawing with my mom, visits with all my grandparents, a game of pool or two with my oldest friend, and all-around general relaxation. I can't wait.
My flight to Lambert St. Louis is currently delayed, and I'm doing some work here at LAX before I get on the place. The last ten minutes, they've been making final boarding calls for a flight to New York's JFK International. Every time they've made the announcement, I've started up uneasily out of my seat thinking I'm about to miss my plane. This experience feels sort of as if a leering Rudy Giuliani — clad as a female flight attendant — keeps gleefully hitting my knee with a reflex hammer.
How glad am I my final destination isn't JFK? Well, if you mean glad as in "I won't have to schlep my heavy bags from the terminal, out to the air train, down the L.I.R.R. concourse to the subway, ride for an hour back to Brooklyn, then schlep my bags up the subway stairs again and then down a humid four blocks home to my tiny, overheated apartment?" Yeah, I'm pretty happy. Although for those of you who haven't been to New York, May is one damn fine month to enjoy the greatest city in the world.
Speaking of which, here's a fun time-lapse video of some guy making a cross-country driving trip from L.A. to NYC…