Despite a daunting backlog of housework and and other pressing obligations, we've got a very enjoyable weekend mapped out.  What could be more fascination than to blog about it beforehand?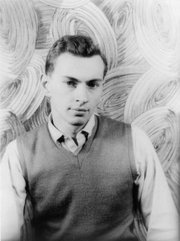 Tomorrow afternoon, we've got tickets to see Gore Vidal interviewed by Jane Smiley at the L.A. Times Festival of Books.  A few years back I was consuming Vidal's historical novels and early political criticism like Bubbles from The Wire was wont to consume that WMD back in season 2.  I'm a huge fan, and though I've seen Vidal speak before in New York I'm really looking forward to seeing him again.  He's always a highly entertaining presence.  I like Smiley too, having read and enjoyed her love letter to thoroughbred racing, Horse Heaven.  Later in the day we'll swing by Kevin Roderick's panel on California: The Great Experiment.  My knowledge of the Golden State is severely limited, so this panel should be a positive educational experience.  I'm also looking forward to meeting Roderick, who was kind enough to link here from L.A. Observed last month.         
Saturday night we're going to see a play with some friends. The name of the play is Klub, and it's being produced at the Actors Gang Theater in Culver City.  We more or less picked this performance at random.  Report will be forthcoming. 
Sunday morning, we're running a 5K in Century City with another good friend of ours.  She and Jessica won't need any luck, but if you're the praying sort, I'd appreciate a kind thought or two for my lumbering, wheezing corpse.  It's going to be ugly, but I'm pretty sure I can go the distance without any major coronary incident.   The race is for a very good cause — the Children's Cancer Research Fund — but we haven't set up any sort of formal fund raising drive.  It's a great organization though.  If you're interested, you can learn more here.