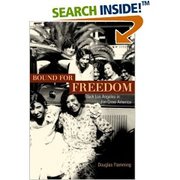 I just read Tyler Cowen's short book review of Douglas Flamming's Bound For Freedom: Black Los Angeles in Jim Crow America. It looks like an interesting read. Evidently, L.A. had no segregation laws on the books in the early 1900s and even had some statutes specifically outlawing discrimination against black people. However, this didn't stop the widespread segregation of saloons and hotels here. Cowen calls the book a "good antidote to libertarians who assign too much blame to state
governments, and not enough blame to voluntary norms, when it comes to
Southern segregation and Jim Crow."
At any rate, I just put the book on my wish list…