To everyone visiting the Fake Angeleno today from Adrienne Crew's LA Observed post about our pursuit of a Dorothy Parker portrait at the WGA library, welcome! First off, let me give you a bonus image from our WGA jaunt: a telegram to Robert Benchley urging him to join his fellow scribblers to join the union post haste.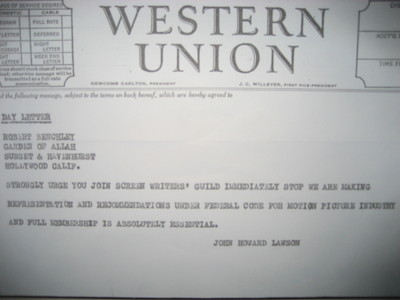 Second, if you were interested enough to click over here, then I suspect you also might be interested in hearing a little more about the Dorothy Parker Society. I was a member in good standing the last three years in NYC, and it was one of the best things about living there I could imagine. Led by President Kevin Fitzpatrick, the DPS is about as far from a stuffy literary mausoleum dedicated to working papers and minutiae haggling as you could possibly get.
It's a rolling party, drinking club, salon, history lesson, and philanthropic organization rolled into one.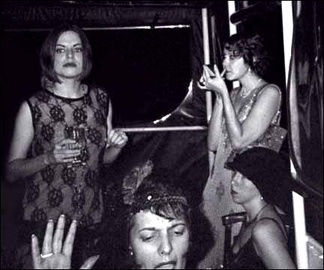 This picture, for instance was taken in 2004, not 1929.
At any rate, Adrienne and I are going to be organizing an inaugural meeting of the L.A. chapter of the Dorothy Parker society in late April. The date, time and venue are still tbd although we have some good ideas.
Per DPS bylawas, there is no dress code, although sharp duds are always appreciated. Nor is there any requirement that you know anything of Mrs. Parker's work beyond a general appreciation for caustic wit and bitter wisdom.
Basically, if you have a liver, we'll be glad to see you. If you're interested in coming to the inaugural meeting/ booze/ conversation session, drop me a line in the comment box, and we'll add you to the invitation when it goes out.