This weekend's itinerary had everything the new Angeleno could hope for: scads of sun and exercise, vegetarian food, a celebrity sighting, and some quirky cinema…
Saturday: We get a fairly early start on a four mile run through Santa Monica and the Venice Beach Boardwalk. It's the longest either of of us have run … in a long time. A gigantic breakfast follows at Rae's Diner, (below) wherein I consume a large waffle, two cups of coffee, a side of bacon, biscuits and gravy, and most of the L.A. Times.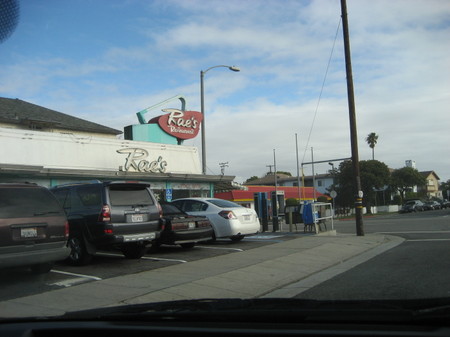 Next stop is the Old Town Music Hall in El Segundo, for their Laurel and Hardy Festival. Not only do we see some hilarious L&H shorts, but we're treated to accompaniment on the hall's "Mighty Wurlitzer" — a ridonkulously huge pipe organ with just about every bell and whistle you can imagine. (You Tube video coming) After the intermission, we see a "talky" with the comedic duo. They've both gained 20 years in the face, and Hardy's gained about 100 pounds in the waistline. Sadly, Laurel looks like the washed-up Scott Fitzgerald in Los Angeles. Surprisingly, both are good speaking actors too — especially Hardy, who proves to be a deadly mimic and a pleasingly over-dramatic line-deliverer.
After the movies, we drive down to Hermosa beach to eat some of neighborhood mainstay The Spot's excellent vegetarian fare. After dinner, I notice that I my spine seems to be split in two and my left hamstring is no longer working. I am glad my 30 year old bones have enjoyed the morning run.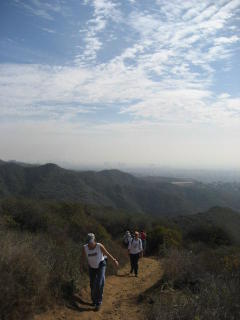 Sunday: There's no rest for the weary as we're up around 9 AM for a hike through the Temescal Canyon Loop. Fortunately I've downed a couple Advil before we hit the trails and I'm just barely able to keep up with a brisk pace. By the time we hit the high point of the hike, I'm feeling reasonably good about my back and hamstring and even better about the commanding vista we've attained.
After the hike, we make the short drive over to Patrick's Roadhouse for brunch. For you New Yorkers: This location is roughly what would ensue if Pete's Tavern was airlifted to the outskirts of Malibu and given a more overtly English theme.
High on endorphins and advil, I wolf down my corn beef hash and eggs, barely noticing that Larry David is sitting a few booths down.
Yes, my first L.A. celebrity sighting is a good one! (Alright, so I'm not counting seeing David Carradine at The Jazz Bakery last week, because what has he done lately other than some Yellow Pages commercials?)