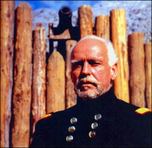 Next time you're patting yourself on the back for sympathizing with the oppressed peoples of the world, take a step back and get some perspective. Via Jason Kottke, here's an obituary for Charles Fawcett, a Virginian who basically spent the twentieth century flying around kicking ass for the underdog — in Poland, France, Czechoslovakia, Greece, Belgian Congo, and Afghanistan. Meanwhile, he also managed to squeeze in a career as a legendary Italian playboy and B-Movie actor. Here's a sample paragraph from the obit:
By 1948 Fawcett was back in action, this time against
the Communists in the Greek civil war, fighting in a lounge suit in the
guise of a journalist, since no foreigners were supposed to be
involved. The following year, he returned to Paris and began his career
as an actor, working in the theatre, radio and films. During the next
25 years he appeared in two films with Sophia Loren, knew Orson Welles
and William Holden, and in Rome – between two of her six husbands –
became the lover of Hedy Lamarr.

In 1956 he spent
three months helping to rescue refugees from the Hungarian uprising
and, following riots in the Belgian Congo in 1959, joined a friend with
a private plane in missions to rescue people who had become trapped and
unable to escape the fighting.
They just do obituaries better in England. The Telegraph in particular. If there's anyone reading whom I haven't already foisted my favorite Telegraph Memoriam on, I highly recommend giving it a read.