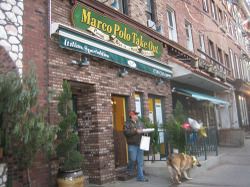 During our long goodbye to New York back in December, Jessica and I were lucky enough to hang out with most of our good friends either individually or in groups during our last couple weeks in town. One such goodbye gathering took place at Marco Polo restaurant in Carrol Gardens. We (Jessica) picked the place because of its old-school atmosphere in general, and its "cheese wheel" dish in particular. For the "cheese wheel," the waiter brings a wheel of cheese to your table, grates it, sets it aflame and tosses in the pasta. Good times!
Now, there have always been rumors as to the secondary occupations of the proprietors of the restaurant, but today, the New York Post confirms its a rumor no longer. Extra, extra!
A popular Brooklyn restaurateur, accused of leading a secret life as a Mafia soldier, was tanned, rested and arraigned yesterday on a $1 million bond after ending an Aruban vacation to face extortion charges.

Joseph Chirico walked out of Brooklyn federal court vowing to continue running Marco Polo Ristorante in Carroll Gardens with his wife, even as he fights an indictment that ensnared him and scores of other purported Gambino mobsters.

The silver-haired Chirico said he was "feeling very good," despite the charges.
Who knew? That nice gentleman at the door … was … just indicted for associating with Gambinos…