We expected the Lake Hollywood Reservoir to be quite a bit bigger. In reality, it was maybe 20 percent larger than its famous Central Park cousin. For most of the 20th Century, this lake served as L.A.'s main water supply station. Today, the construction of two new underground storage tanks has relegated the reservoir to "emergency backup" status.
For more history, look here…
Evidently, you used to be able to hike a loop around the reservoir, but now huge sections are closed off thanks to "security" and "landslide zones." One section of the reservoir you can still walk around is the dam.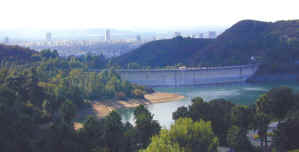 Our final hike was around the Hollywoodland subdivision. We took a tour of its Sacre Coeur-like network of staircases.
For our full itinerary, click here.
(Yes, New Yorkers, Hollywoodland is a still-thriving subdivision planned in the 1920s and situated in the Hollywood Hills. The Hollywood sign was originally an advertisement for the subdivision! See picture.)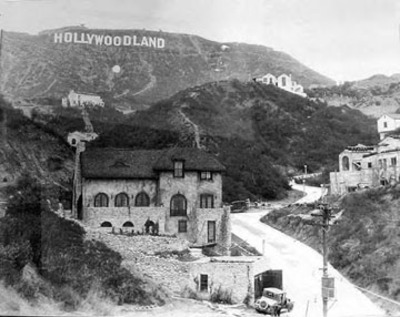 Here's me on the Hollywoodland stairs tour '08, standing in front of some guy's mail box. By the end of the walk, we'd tallied 561 stairs up and 404 stairs down.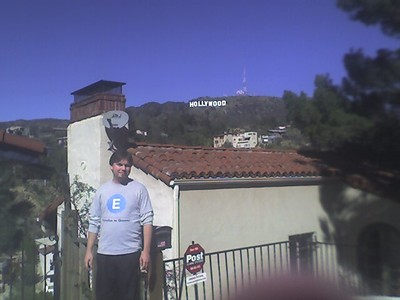 Finally, LAist has a great post today about The Hollywood Sign — loaded with fun information and history.