As I was scanning LAist's literary roundup, tonight's 7 PM event at Book Soup really jumped out at me.
Robert Gottlieb will be reading from his new book: Reinventing Los Angeles: Nature and Community in the Global City (Urban and Industrial Environments).
My first thought: "Holy Moses! The ex- New Yorker chief and editor of my beloved Bob Caro has gone and written himself a book about L.A.?"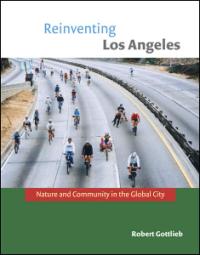 Alas, I realized that Robert Gottlieb would never lend his name to such an inelegant and academic-sounding title… And as it turns out, this Robert Gottlieb is a professor at Occidental College, which certainly is no crime. In fact, I still really want to read the book. The blurb on the Book Soup web site says:
Describes how water
politics, cars and freeways, and immigration and globalization have
shaped Los Angeles, and how innovative social movements are working to
make a more livable and sustainable city.
I'd definitely go to the reading tonight if I didn't have dinner plans.