Ladies and gentlemen, without further ado, I give you the highly entertaining L.A. Can't Drive.
If you're not a regular reader already, I highly recommend heading over to this blog and enjoying its steady stream of pissed-off-but-cogent attacks on idiot motorists in the L.A. area. It's been raining all weekend, and the latest offenders to fall in L.A.C.D.'s cross hairs are the law breakers who fail to use their headlights along with their windshield wipers.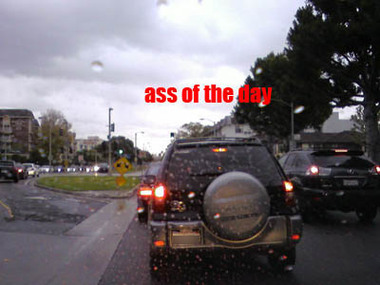 What's more, the site also features both an "idiocy meter" and an "asshole meter" bad driver ranking system.
It's also participatory, meaning if you see an offending motorist and happen to have a camera handy, click away and maybe L.A.C.D. will feature your own asshole/idiot in an upcoming post.
(Photo: Stolen from the website mentioned above.)