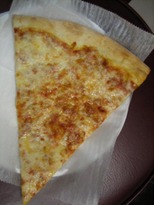 The cover story of the L.A. Times art section today is all about where transplants from various cities can go to find a slice (or a bagel) of home.
The New York recommendations include the Brooklyn Bagel Bakery and the Village Pizzeria in Larchmont Village, among other places… I'll try to check them out soon.
Another recommendation was from New Yorker writer Dana Goodyear, who compares Pasadena's Pie 'n Burger with Florent.
However, Jessica informs me that the former is a lot more like Cozy Soup and Burger at Astor Place — which is … nothing like Florent at all. Who is Remnick hiring these days anyway?
See Franklin Avenue's less-than-fawning take on the article here. They wonder:
What is it about the L.A. transplants who
never bother to get to know their adopted city? I'm constantly
surprised by people who have lived here for years, but still don't know
the basics about Los Angeles, don't pay attention to local politics,
never venture into certain parts of town and refuse to become part of
the local fabric.
I'm hoping to buck the trend, guys…