For lunch this afternoon, I met up with my friend Alysia: a Fake Angeleno guest blogger and L.A. history authority, amongst many other honorifics. We enjoyed some Baja Fresh takeout in the courtyard of the Hammer Museum (free on Thurdays) and then walked over to have a look at the Westwood Village Memorial Park Cemetery.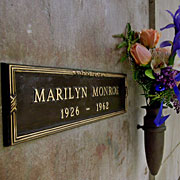 My very first tour of a famous L.A. necropolis didn't disappoint: We immediately made our way to Marilyn Monroe's final resting place. The extinguished candle in the wind's monument was covered with lipstick kisses — evidently a longstanding tradition. Other sightings with great epitaphs included:
Merv Griffin: "I will not be right back after this commercial message."
Jack Lemmon: "in"
Billy Wilder: "I was a writer, but then nobody's perfect."
Rodney Dangerfied: "There goes the neighborhood"
Evidently we missed Dean Martin, John Cassavetes, George C. Scott, Frank Zappa, Natalie Wood, Doors biographer Danny Sugerman, and — how did I miss this — the velvet fog, Mel Torme.
A return trip will be in order…