The headline in the New York Times read: "Ex-Harvard President Meets a Former Student and Intellectual Sparks Fly."
I was expecting to read some screwball piece about Larry Summers meeting the past President of the Women's Science and Math Auxiliary, but instead I ended up reading a cleverly re-written press release about the launch of Big Think, a new, venture-backed video content site billing itself as "A YouTube for ideas." Says the Times:
Big Think (www.bigthink.com)
mixes interviews with public intellectuals from a variety of fields,
from politics, to law to business, and allows users to engage in
debates on issues like global warming and the two-party system. It plans to add new features as it goes along, including a Facebook-like
application for social networking, and Mr. Hopkins said he would like
the site to become a popular place for college students looking for
original sources.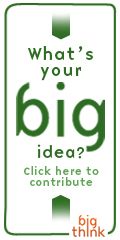 My first reaction to the article was: What's the NYT trying to do? Diss Bloggingheads.tv? (Which already is a YouTube for ideas … and the long-form, substantive debate completely missing from the vast wasteland of the regular tube.)
Then I paid a visit to the Big Think site and discovered it's doing something slightly different. The site is more like Bloggingheads meets Errol Morris meets an upscale business retreat panel. Not that there's anything wrong with that…
Anyway, I can recommend checking out the NYT article and the Big Think site if you have some browsing time today.